12.08. – 30.08.2020 Kunst(p)artikel – Art during emergency
Installation at the female artists forum GEDOK Karlsruhe
media art, installation, video
Ina Annette Hünnekens, Astrid Hansen, Birgit Spahlinger,
Sabine Schäfer and Sophia Hünnekens
A project of the Photography/Media Art Department of GEDOK Karlsruhe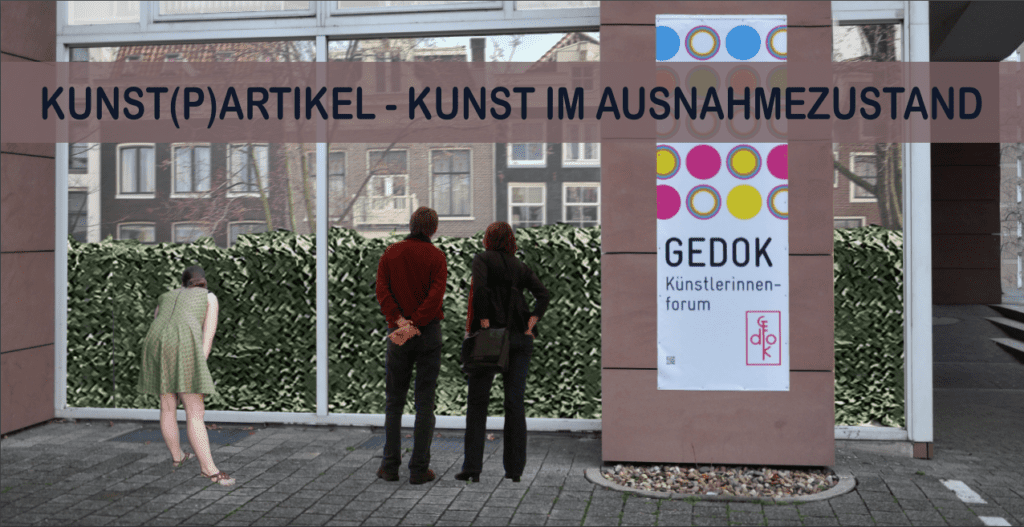 Location: Markgrafenstr.14, 76131 Karlsruhe, Germany
Opening hours: Presentation for public space – can be seen daily around the clock!
Vernissage: Tue, 11.08.2020, 8 p.m.
Introduction: Dr. Ina Annette Hünnekens, The vernissage will take place outdoors.
The exhibition project:
GEDOK shows itself in a state of cultural emergency, which means above all: keep your distance. The gallery space remains closed and is, as it were, turned inside out. A camouflage screen with peepholes, so-called "viewing chambers," prevents the viewer from entering the gallery and only allows glimpses of interior projections and art videos that arouse curiosity about the artistic potential. The role of the usual viewer is changed: instead of an exhibition audience, we are now dealing with an audience of flaneurs and voyeurs. Thus we refer not only to the changed role of the viewer and the exhibition, but also to the object of the exhibition.
Chambers of vision
In four viewing chambers, the arts – with image, video and text materials from GEDOK Karlsruhe art projects – are presented in their four dimensions using digital means.
Two further chambers of vision reflect aspects and conditions for art and its reception using analog means of observation:
One chamber focuses on the dialectical multidimensionality of the arts – with image, video, and text materials from GEDOK Karlsruhe's art project "Six New Ones" – while the other chamber focuses on the transcendental conditions for art using analog techniques of observation.
Visual chamber 1-D: writings, notations and instruments
Visual Chambers 2-D and 3-D: Fine Arts, Applied Arts, Photography / Media Art
visual chambers 4-D: media art, music
Visual chamber "six new
Viewing Chamber "With Distance | H Time Out
Translated with www.DeepL.com/Translator (free version)
CREDITS
Concept: Astrid Hansen, Annette Hünnekens, Sabine Schäfer, Birgit Spahlinger
Curators visual chamber 1-D to 4-D: Annette and Sophia Hünnekens, Sabine Schäfer
Video production: Astrid Hansen, Sophia Hünnekens, Birgit Spahlinger
Technology: Jean-Michel Dejasmin, Johannes Thimm, Naoko Okamoto, Sebastian Nagel, Christof Zimmermann, Fa. ICON
Organization: Sabine Schäfer, Vanessa Schwill (assistance)
Further credits: see project page on www.gedok-karlsruhe.de
PROJEKTLEITUNG
Female artists of the photography/media art department; guest: Sophia Hünnekens
Astrid Hansen, artist, deputy advisory board member, www.astridhansen.eu
Ina Annette Hünnekens, artist, media art scholar, curator, www.nplus1.weebly.com
Sophia Hünnekens, prospective student at the Munich University of Applied Sciences for Photography
Sabine Schäfer, artist, deputy advisory board member, www.sabineschaefer.de
Birgit Spahlinger, artist, chairwoman of the advisory board, www.b-spahlinger.de
Sponsored by:
Ministry of Science, Research and the Arts of the State of Baden-Württemberg
Cultural Office, Cultural Office of the City of Karlsruhe
Technical support, with friendly assistance:
Fa. ICON, trade fair and exhibition design