7.02. – 8.03.2020 Art weeks for climate protection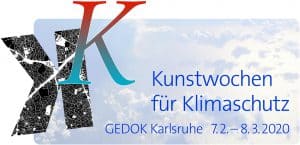 in the artists' forum GEDOK Karlsruhe as exhibition and action space
as well as in the urban and media space
for the Ida Dehmel anniversary year of the Federal GEDOK 2020
under the federal GEDOK motto "Women Artists for the Future
organized by GEDOK Karlsruhe
in cooperation with the climate campaign of the city of Karlsruhe
Exhibition and media presentations in the GEDOK Forum, concert,
Installation in urban space, reading, lectures,
sustainability walk, cinema visit.
Project management, concept, curatorial work:
Sabine Schäfer, Dorothee Schabert, Katalin Moldvay (co-curator exhibition).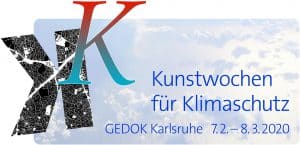 PROGRAM
Opening of the Art Weeks: Fri. Feb. 7, 7 p.m.
Welcome and introduction: Dorothee Schabert and Sabine Schäfer
Greeting: , Environmental Office of the City of Karlsruhe
Musical contributions: Eszter Hernadi, clarinet
Duration: Fri. 7.2. to Sun. 8.3.
Opening hours GEDOK Forum: Wed – Sun 15-19 h
For further opening hours, dates and venues of the event program see list at the end of this press release
Finissage on International Women's Day: 8.3., 11-15 h
Appreciation: Bettina Lisbach, Mayoress
Review and outlook: Sabine Schäfer and Dorothee Schabert
Reading: Vera Morelli Women literati in the "Third Reich" – against intellectual pollution in Nazi fascism
Vegan brunch buffet
Please find the event overview below.
Exhibition / Event Venue:
GEDOK Künstlerinnenforum, Markgrafenstr.14 (corner Fritz-Erler-Str.), 76131 Karlsruhe, Germany.
and other venues of the partners of the accompanying program
Admission free
Art weeks for climate protection
Extinction of species. Climate change. We do not want to look on in helpless horror. But what can art do against the poisoning of our soils, against the pollutant emissions of misguided traffic, against the plundering of our planet's resources? Against profit thinking in the traditional manner. For a turn away from comfortable habits to mindfulness towards the environment and fellow human beings?
Art appeals to both the intellect and the emotions. Art can create consternation where arguments fall flat. Art can make concrete what scientists theoretically recognize and present. Mindfulness requires perception. And only what we perceive, we will appreciate; only what we love, we will protect. Art perceives and lets perceive. Sensitively, precisely. With ever new ways of seeing, art releases colors, forms, sounds, words from their usual context and creates new unsuspected connections and references. It presents unexpected scenarios that lie dormant in things, as long as we only use our imagination. It thus shows that our environment can be influenced and changed. This is how art makes critical remarks. This is how political interventions succeed. Plastic waste draped in sculpture; plants in the dungeon of urban grids; birdsong drowned out by traffic noise; islands of quiet listening in the din of the city.
Many contribute to our "Art Weeks for Climate Protection". Visual artists, writers, musicians, artists of the applied and performing arts. We cooperate with the environmental office of the city of Karlsruhe and several local environmental initiatives, which contribute accompanying events.
Sabine Schäfer, Dorothee Schabert, Project Managers
Event Overview:
Fri. 7.2 – Fri. 21.2, 8.00 – 18.00
Foyer of the city hall at the market place, Karl-Friedrich-Str.10, 76133 Karlsruhe, Germany
"Listening opportunity" listening couch with soundscapes
Fri. 7.2.2020, 19.00, GEDOK Forum
Vernissage and opening of the art week
Sat. 8.2. – Sun. 8.3., Wed. – Sun., 15.00 – 19.00, GEDOK Forum
Exhibition "Wahr-nehmungen
Sat 8.2.- Sun 8.3., Wed – Sun, 15.00 – 22.00, GEDOK Forum
Video projections of art projects and Schlosslichtspiele film "Our Only Blue One".
"Outside Effect" – Media Presentation
Tue 11.2, 18.00, GEDOK Forum
Lecture Dr. Joachim Nitsch: Effects of Climate Change – Tasks for Politics and Citizens
Sat 15.2, 15.00 Meeting point: Schloss Gottesaue bus stop
Sustainability walk with ITAS and stattreisen e.V.
Tue 18.2, 18.00, GEDOK Forum
Lecture Dr. Manfred Verhaagh/Sabine Schäfer: On the Artful Sound of Horrors
Biological presentation and sound art
Thu Feb 20, 19.00, Weltladen, Kronenstr. 21, 76133 Karlsruhe, Germany
Lecture Ingeborg Punjiula M.A.: What does fair trade have to do with climate protection?
Sun 23.2., 11.00, GEDOK Forum
Reading Karin Bruder, Franziska Joachim, Sabine Stern, musically accompanied by Rita Huber-Süß
Thoughts on climate, environment and the elements
Tue Feb 25 – Thu Mar 5, Tue – Thu, 2.00 – 6.00 p.m., Zukunftsraum, Rintheimer Str. 46, 76131 Karlsruhe, Germany
"Listening opportunities" Listening couch with soundscapes
Wed 2/26 – Sun 3/1, GEDOK Forum
Guest week of the Bern University of the Arts (HKB)
Wed 26.2., 18.00, GEDOK Forum
Lecture Prof. Dr. Teresa Carrasco: Bioacoustics, composition, sound design
Sat 29.2., 19.00, Musen-Tempel, Hardtstr. 37a, 76185 Karlsruhe
Concert "Klima-Musiken", including: Performance TanzTheater Gabriela Lang
Tue 3.3. 18.00, GEDOK Forum
Lecture Prof. em. Dr. Götz Großklaus: On the history of the perception of nature in literature and painting
Wed 4.3 18.00, lecture room/Exotenhaus, access via Ettlinger Str. 4a, 76137 Karlsruhe
Lecture Dr. Clemens Becker: The Zoo as a Center for the Protection of Species: How we support projects worldwide
Thu 5.3 18.30, Schauburg cinema, Marienstr.16, 76137 Karlsruhe
Film evening "2040 – We save the world!"
From 17.30, parcours and book table with information about the urban climate campaign.
Sun 8.3 11.00 – 15.00, GEDOK Forum
Finissage on International Women's Day with vegan brunch buffet
With the support of the City of Karlsruhe, Sparkasse Karlsruhe and Stadtwerke Karlsruhe
Further information on: