Sparkasse Karlsruhe, Branch Ettlingen Marketplace
Media art – solo exhibition Sabine Schäfer
World walk
Art – Nature – Science
Immersion in the micro- and macrocosm of nature
With media art by Sabine Schäfer Studio <SA/JO>.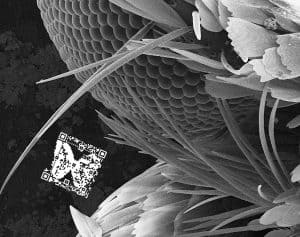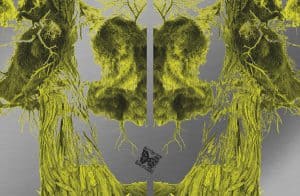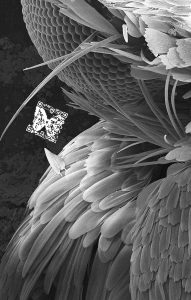 Opening: Mi, 29.01.2020, 18.30 Uhr (Entry from 18 Uhr)
Opening Hours: Mo –Fr 9 – 18 Uhr
Welcome: Thomas Zolk, Deputy Regional Director South
Introduction: Simone Maria Dietz, art historian
Musical accompaniment: composed sound microcopies by Sabine Schäfer
Conclusion with refreshments
Above all, scanning electron microscope images of microorganisms and satellite images of the sun are the visual basis for the works of artist Sabine Schäfer. In her interactive prints and installations, she uses the QR code in the form of a butterfly as a pictorial element. However, the code is also an access to the audio compositions "behind" it.
Scanning the QR code leads to a playback page and the viewer hears artfully composed sound microscopies of insect, bird and amphibian voices. Each image has its own sphere of sound, which the viewer can listen to through their smartphone headphones.
"Thus, Sabine Schäfer's works show how linkages in different dimensions produce a synesthetic experience of analog world and digital reality that characterizes our time. This simultaneously touches on fundamental principles and elements of communication as processes of life." (Dr. Annette Hünnekens)
The exhibition features animal exhibits from the Natural History Museum Karlsruhe (SMNK), whose voices the artist uses for her compositions.
With friendly support
State Museum of Natural History Karlsruhe (SMNK)
ICON trade fair and exhibition design