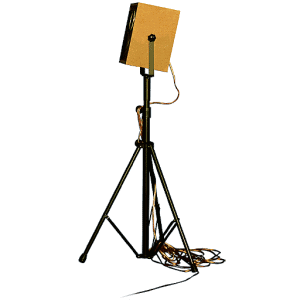 In the context of the series of works "TopoPhonien", spatial sound installations are created, which are designed and produced on the aesthetic and technical basis of the artistic development project of the same name. The artworks are based on the idea of moving sound, quasi "real", through a multi-layered loudspeaker body established in the room – by means of a computer-controlled spatial sound distribution system. Thus, spaces individualized by sound are created with walk-in spatial sound bodies, sound sculptures and concert-like spatial sound installations. Sabine Schäfer: artistic idea, composition, production Sukandar Kartadinata: spatial sound control technology (system design), from 1990 Jannis Lehnert: spatial sound control technology, from 2013
Daten zur Projektentwicklung
1988/89 Development of the artistic concept / DAAD residency at CCRMA Stanford, USA Cal. and other computer music centers.
1990-92 Development and construction of the first spatial sound control prototypes at the Institute for Music and Acoustics ( IMA) of the ZKM, Center for Art and Media Karlsruhe, in cooperation with the University of Karlsruhe (TH, now: KIT).
1992 Construction of the 24-channel spatial sound control system Topoph24.
1991 "TopoPhonien II", first 16-channel concertante surround sound installation.
1992 "TopoPhonicZones" first 16- and 23-channel, walk-in spatial sound installation.
1994/95 Development of a keyboard-controlled MIDI interface for room sound control. 1999 Construction of a 32-channel fully digitized spatial sound control system.
Since 2007 the space-sound compositions, which were created in the context of the "TopoPhonien", are archived in the digital archive for media art "mediaartbase.de".
Video documentaries
Conversations with the artist
Interview by Ulrike Becker, 1993
Interview von Claudia Röck, 2011