Sabine Schäfer
Rosemarie Vollmer
Klangzeichnungen im Raum
A walk-in, site-specific, immersive, audiovisual installation
For the project space of the city gallery Aschingerhaus Oberderdingen
10.07.-14.08.2022
Wed – Sun 2 – 5 p.m. and by appointment
Fri, 29.07.22, 9 am Lecture
Martin Lehnert: Humans and bats – a multifaceted relationship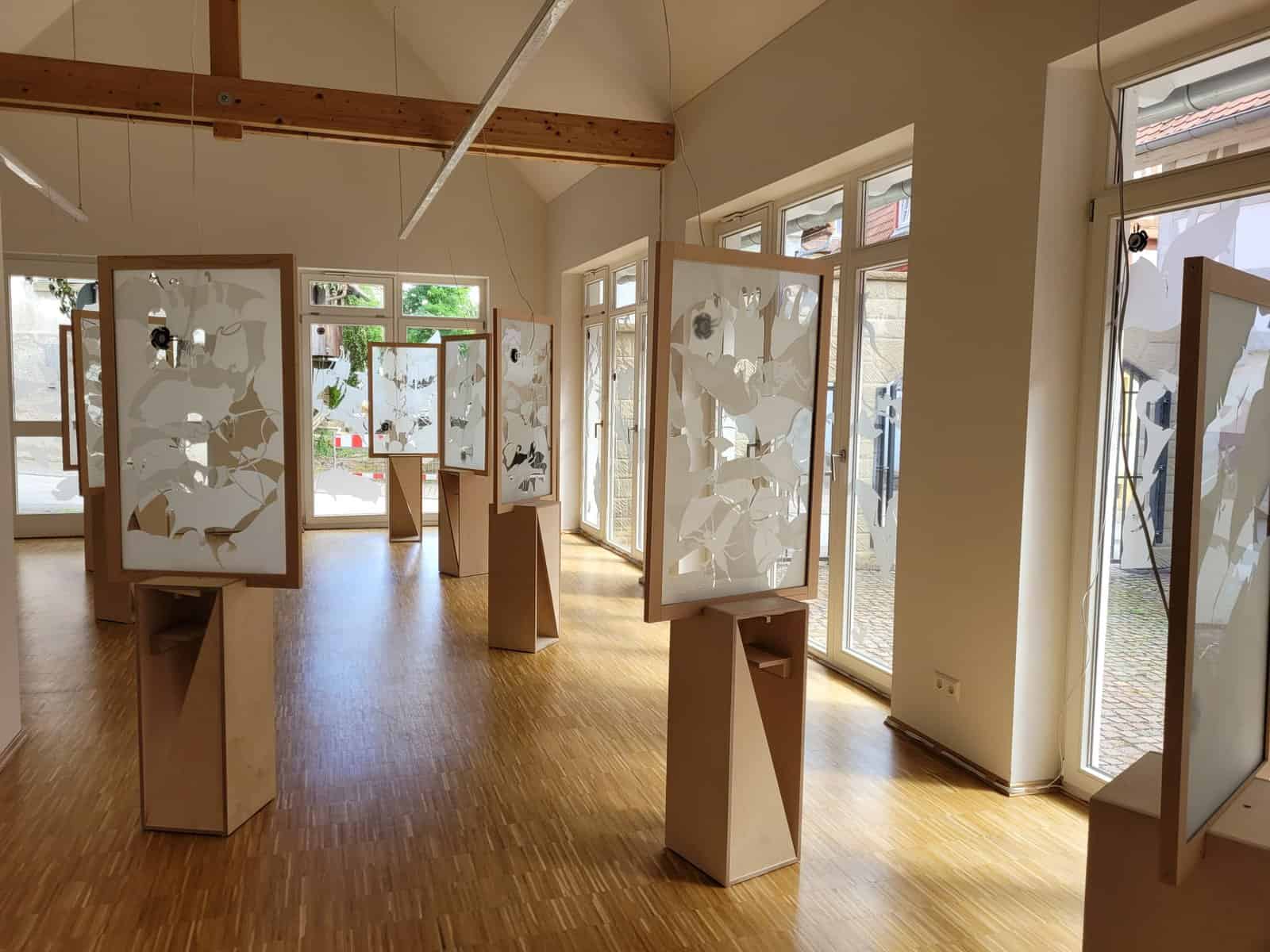 The echolocation of bats, which is inaudible to humans, has been processed by sound microscopy
and made audible. Small sound transducers on the glass facade and on the glass objects turn the compositions
audible by means of the oscillations of the glass and thus become a special sound experience in the room.
The glass facade is at the same time the carrier of oversized transparent silhouettes of bats and insects,
whose shapes overlap with the sound transducers. Added to this are images with augmented reality (AR) enhancements,
in which the visitors trigger videos with sound via an image-scanning app on their smartphone and thus become part of the installation.
The bat is artistically thematized as a symbol of the endangered biodiversity in nature als well
as the intertwining and condensation of our world: the world of animal creatures and the world of humans,
who ultimately threaten the space for both by encroaching on their natural habitats.
Information about the installation
Sabine Schäfer: Spatial-sound composition, audio installation, AR images
Rosemarie Vollmer: Sandblasted glass pane objects, transparent shear cuts, AR images
Dr. Annette Denzinger, University of Tübingen: Scientific sound archive
Jannis Lehnert: artistic-audio-technical assistance, spatial sound control technology